Located in Tulsa, Oklahoma
A Christ-Centered community FOR you, FOR Tulsa, and FOR the world.
We are a grace filled place for all kinds of people to experience Communion with God, Community with Others, a Calling to serve, and a Commission to Go!
Communion with God.
This is your opportunity to learn more about who we are and our unique expression of worship.
Community with others.
Through small groups, you will be able to connect with others and share life together.
A Calling to Serve.
By serving others, you will learn more about who God created you to be.
A Commission to Go!
We want to share the good news of Jesus!
4102 East 61st Street, Tulsa, OK.
Sundays at The Kirk
Worship Service Times (In-Person or Online):
Traditional Worship @ 9:00 a.m.
Modern Worship @ 10:30 a.m.
Services can be found online at https://thekirk.online.church/.
The world is broken.
But we have good news.
There is something deeply wrong with the world. We are not living in right relationships with our neighbors or our Creator. The Bible calls this problem sin, a term which describes anything that is contrary to God's perfect design for human flourishing.
The good news is that God has done something about this overwhelmingly destructive problem. He sent his son, Jesus Christ, to the earth to live the life that none of us could live, and die the death we all deserved. His sacrificial death pays the penalty for our sins and opens us up to a new way of living. It puts us back in a healthy community with others and restores our relationship with God.
This new community is called the church, a grace-filled place for all kinds of people with a shared mission to spread the good news about Jesus. Whether your posture toward Jesus is cautious, curious, or committed, we welcome you to be part of us!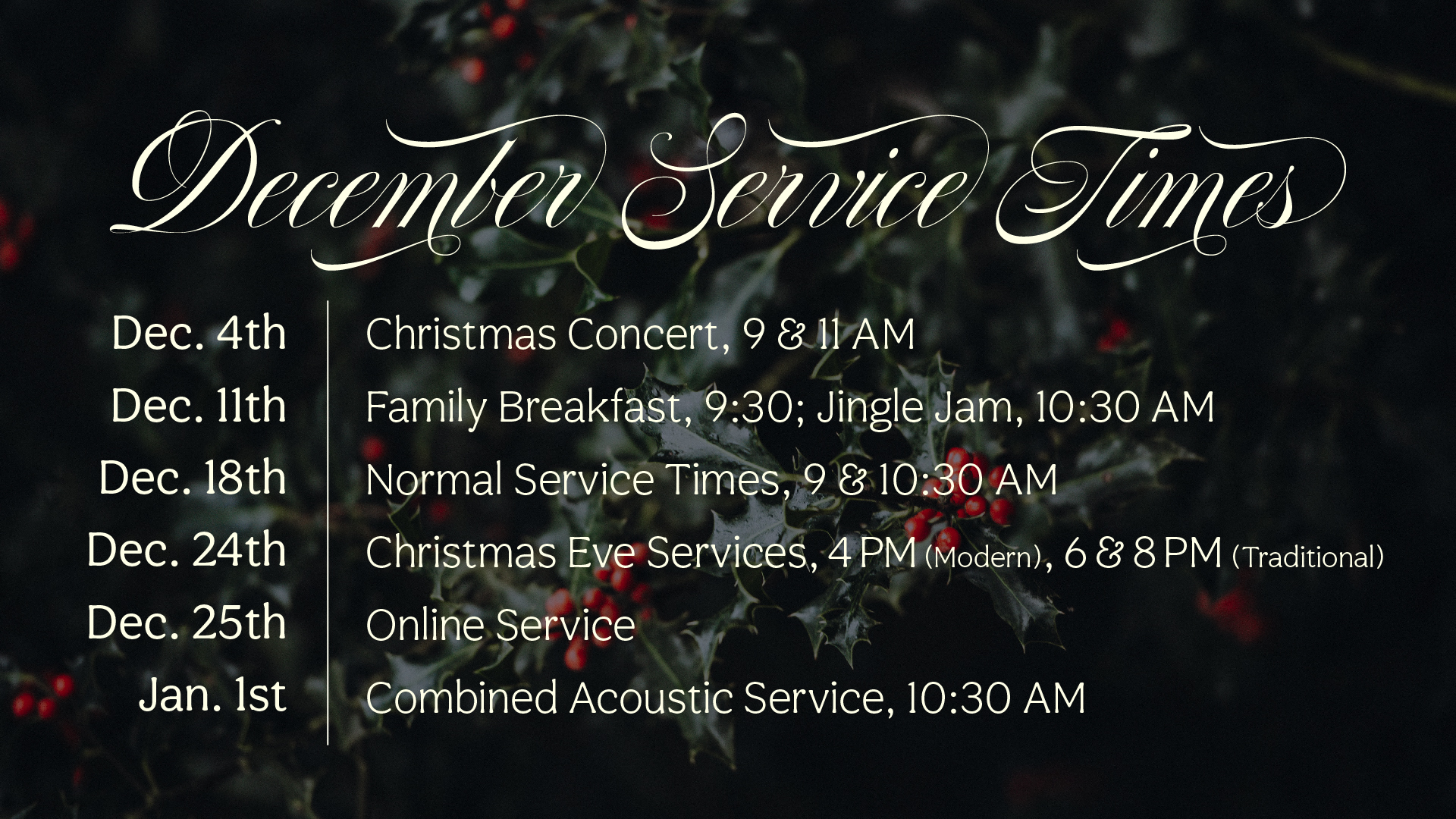 Advent Season
December Services
The Advent season is upon us. Make plans to join us for all of our special services throughout the month of  December.

December 4 – Christmas Concert @ 9:00 and 11:00 AM

December 11 – Jingle Jam @ 10:30 AM, breakfast before @ 9:30 AM

December 18 – normal services @ 9:00 AM (Traditional) & 10:30 AM (Modern)

Christmas Eve – 4:00 PM (Modern), 6:00 & 8:00 PM (Traditional)

Christmas Day – Online service

January 1 – One service @ 10:30 AM
Current Sermon Series
The Weary World Rejoices
We have all been through a lot in the past few years, collectively and individually. No matter what stage of life or challenges you are facing, you likely feel weary. This world in its current condition leaves us tired, because everything in life is more difficult than it's supposed to be. Nonetheless, this season reminders us that Jesus came to save us from our sins and when he comes again, he will restore all things. Join us as we explore the biblical theme of joy in our advent sermon series, The Weary World Rejoices.